METONMAS delivers broad range of services to its customers that guarantees measurable results.


Fabrication
METONMAS having its efficient capabilities to respond to a wide range of request for non-standard materials and projects throughout the Asean Region. With the CNC and Rolling Machines, the capabilities in machining materials with diameters ranging from 3/8" to 5" in our production facility has became a major manufacturing hub for bolting materials. This includes from welding to machining of any kinds according to drawings and customers' specifications thereby offering our customers hassle-free flexibility and précised customization.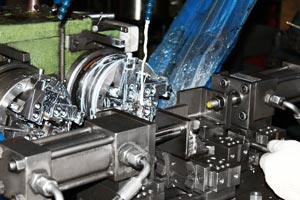 Our strong alliance with manufacturers around the world enable us to fabricate non-regular items and high-grade materials such as :
• Aluminium
• Avesta 254 SMO

®

(UNS S31254)
• Brass
• Bronze
• Copper
• Duplex Steel
• Ferralium

®

(UNS S32550)
• Monel

®

• Hastelloy

®

• Hiduron

®

• Incolloy

®

• Nimonic

®

• Super Duplex Steel
• Titanium
• Zeron

®

• Precipitation Hardening Alloys
Our additional production capabilities by tailor-making the full range of pipes accessories in accordance to projects drawings such as :
• U-Bolts (with Neoprene Rubber insert)
• Pipes Clamps & Related Pipe Products Accessories
• Eye-Bolts , T - Bolts
• Foundation Anchor Bolts
We do also have experience and knowledge in supplying rods, rock bolts and reinforcement couplers for rock excavation stabilization and as well as Straight Bolts and Curve Bolts and its accessories in all tunneling projects.