METONMAS, the specialist in coatings and with its foremost concerns mainly on Safety and Environmental especially with the current booming in the Oil & Gas Industry around the ASEAN Region, enabling us to produce a more enhance outstanding performance in this field to protect its risk assessment.
Through our XYLAN primer coat and top coat combination, WHITFORD Quality Approved Coater (QAC) program ensures the highest quality performance of our Bolts and Nuts with the improvement of resistivity on material deterioration in a harsh and corrosive environment. At such, it also gives a more reliable and repeatable torque-tension in all construction designing processes for Petrochemical Industries.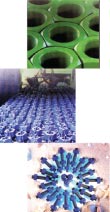 In additionally, our coating also enhance a multitude of different surfaces and materials to improve its efficiency and / or increase its longevity of use and meeting all customers' requirements with our outstanding quality services such as :
• Zinc Plating
• Zinc Phosphate
• Nickel Plating
• Fluorocarbon Coating
• Hot-Dipped Galvanized
• Neoprene Coating
• Silver Plating
• Polyolefin Coating
• Cadmium Plating
• Cadmium + Fluorocarbon Coating
• Zinc-Nickel + Fluorocarbon Coating
*Other special materials can be accepted through our sales enquiries.